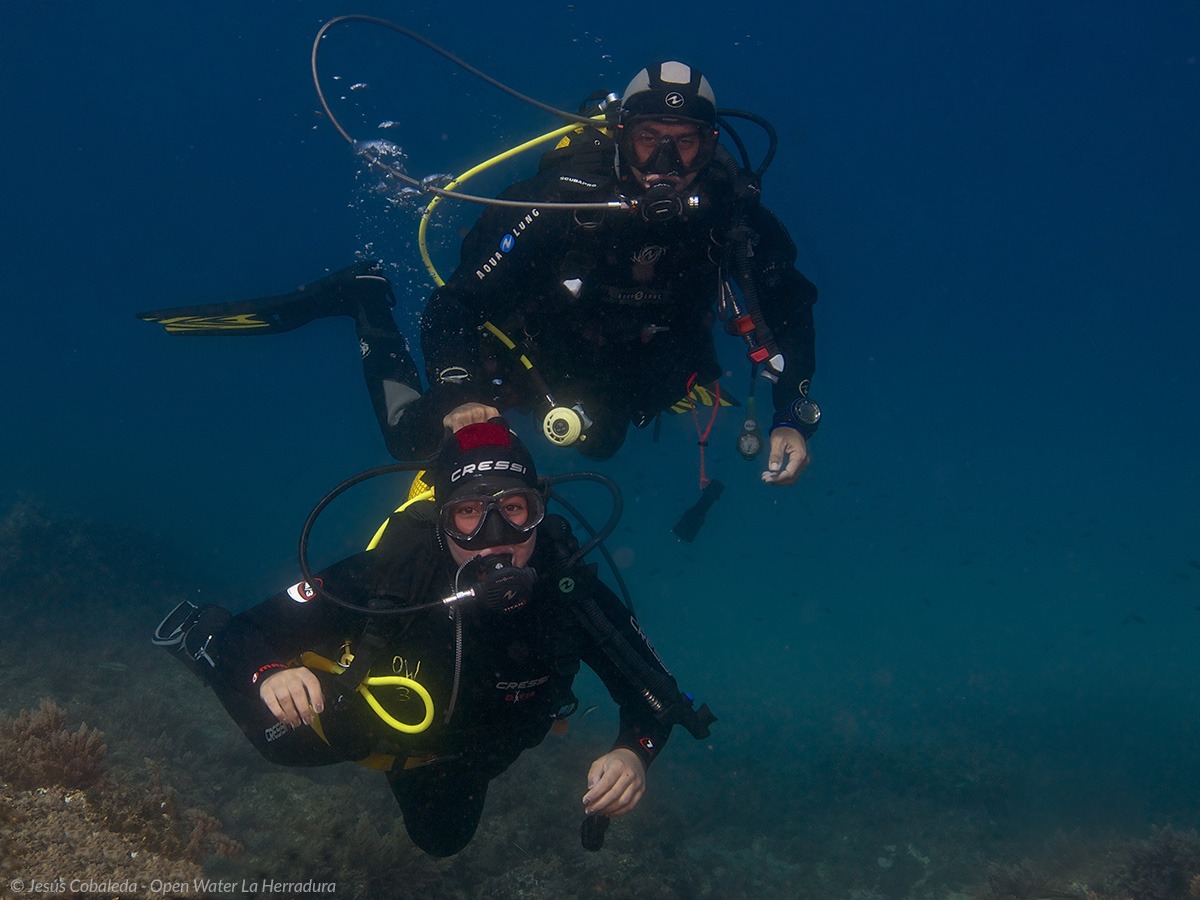 OVERHEAD DIVINGS (CAVES/WRECKS)
This overhead environment training category is designed for divers seeking training in Cave and Wreck environments. Wreck/Cave training does not necessarily require a multitude of overtly technical skills, e.g., multiple breathing gases or multiple stage bottles. One can safely learn to dive in wrecks/caves without excessive depth and or decompression requirements.
Cave Diving Programme
Introduction level: Essentials of Overhead. This level is similar to Essentials Tech but instead of using a buoy (SMB) a spool is used. Limitation: Overhead diving, witout deco. Max. Depth: 18 metres with air. Course duration: 4 days.
Initiation level: Overhead Protocols are used in situations such as cave diving.  During the course we do not undertake overhead penetrations although the emergency levels taught are to máximum requirements.  We take full advantage of teaching emergency practice without a roof limitation.  Limitation: overhead diving in a cave area (where the entrance is not visible), without deco. Max. Depth: 18 metres with air. Course duration: 3 days.
Medium level: Cave Diver (Cave 1). First overhead level with a limitation of not abandoning the main line or entering deco. Max. Depth: 30 metres with Nitrox 32. Duration: 4 days.
High level: Advanced Cave Diver (Cave 2). Second overhead level which includes complex navigation and use of extensión stages, with a limitation of not entering deco. Max. depth: 30 metres with Nitrox 32. Duration: 4 days.
Extreme level: Tech Cave Diver (Cave 3). Third and last level of overhead diving that combines complex navigation and the use of decompressive gases to exceed  non-deco limits. The depth limitation depends on the previous Tech certification. Duration: 4 days.
Wreck Entrance Programme
Wreck Diving courses are similar and compatible with the corresponding cave levels, their limitations also correspond. Formed by OHP, Wreck 1, Wreck 2 and Wreck 3.
The obvious differance to cave diving is that in the majority of wrecks, we decend down a rope and wrecks are located in open wáter – for which the use of a buoy (SMB) is required. An appropriate Tech level is required to permit descent to the depth at which the wreck is located.
Minimum 18 years of age.
Completed UTD registration process.
Completed online course.
Diving certification of the direct previous level.
Previous evaluation from Instructor.
Do not smoke during lessons (advisable to be non-smokers).
Must be able to swim a distance of at least 15 meters on a breath hold.
Must be able to swim at least 275 meters in less than 14 minutes without stopping.
"CAVE AND WRECK DIVER TRAINING DOESN'T NECESARILY NEED TECH DIVING SKILLS, SUCH AS THE USE OF MULTIPLE BREATHING GASES OR VARIOUS AIR TANKS. IT IS POSSIBLE TO LEARN HOW TO DIVE SAFELY IN CAVES/WRECKS WITHOUT REACHING AN EXCESSIVE DEPTH OR THE NEED FOR DECO. "